Turkey Day is behind us but I still have feathers on the brain.
Here's a treasury of delightful feathers of all kinds.

I found these little beauties at a boutique here in Charlotte ($12)!
(similar, similar, similar)


I had to have this Lunares Gold Athena Feather Tray for a touch of gold in the living room bookcase.(similar, similar)

Check out this amazing DIY project from the Free People Blog for painting feathers. This would be a great rainy-day activity to enjoy with the kids. Attached to the end of a pen with some wound embroidery floss, the finished product would make sweet homemade gifts for them to give to their friends for the holidays.
I found this great feather candle at Tuesday Morning (another little feather-touch in my living room).
I even picked up a second one to gift. Like most things at Tuesday Morning, if you don't snatch it up right away, odds are you're not going to come across it again. However, I did find the exact motif on a great little tray (
below
).
Here's a simple (and terrific) idea: flower clippings, greenery, and feathers in a mason jar.
In case you're still deciding whether or not you're into this whole "feather thing" with me, maybe try one on
temporarily
?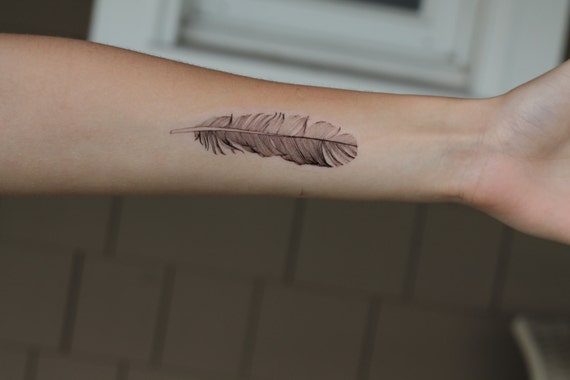 And of course, because I'm obsessed with feathers right now, I made several new sets of stationery featuring feathers and have listed them in the
Etsy shop
.